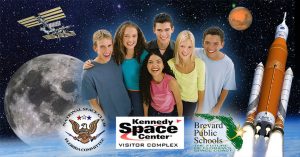 JonRocket.com has made a donation to the National Space Club Florida Committee to help support their Space Week educational outreach in Brevard County along Florida's Space Coast.
Space Week actually lasts several weeks.  During this time, every sixth grader in the county's public schools is able to spend a day at Kennedy Space Center and engage in a number of space-related activities.
In 2016, more than 6500 students participated in the Space Week program.
For more information, please visit the NSCFL website at https://www.nscfl.org/spaceweek.